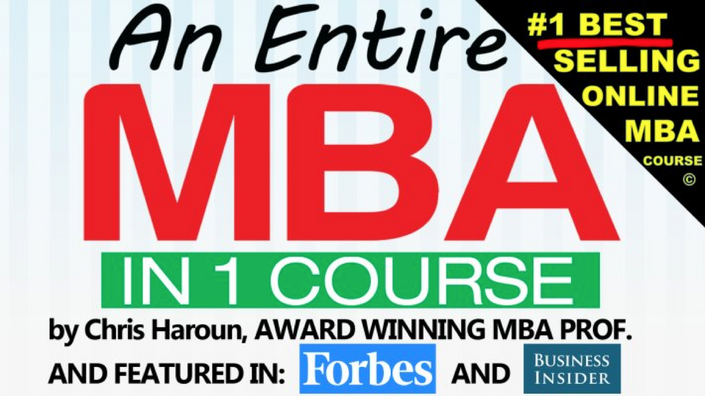 An Entire MBA in 1 Course (8 Hour Course): Award Winning Business School Professor, Venture Capitalist and Author
Everything You Need to Know About Business from Start-up to IPO By Ivy League MBA Grad, former Goldman employee & VC
Watch Promo
Are you ready to take your career to the next level? In this course, you will learn everything you need to know about business….from starting a company to taking it public. This course covers all of the important topics you will learn from getting an MBA from a top school + real life practical business concepts that will help make you more successful!
This course is taught by an award winning MBA professor with significant real world experience working at Goldman Sachs as well as in the venture capital, hedge fund and consulting industries (he has founded several companies and sits on several boards). Many business concepts are simply common sense. This course will focus on business concepts that you need to know that might not be common sense. This course makes the general business, accounting and finance process very easy to understand! The professor of this course is also the author of "101 Crucial Lessons They Don't Teach You in Business School," which Forbes magazine recently called "1 of 6 books that all entrepreneurs need to read right now."

The contents of this course are all based on my work experience at several firms, including Goldman Sachs, the consulting industry at Accenture, a few companies I have started, the hedge fund industry where I worked at Citadel and also in the venture capital sector (the firm I founded had a venture capital investment in Facebook).I included helpful practical business concepts I learned while I did an MBA at Columbia University and a Bachelor of Commerce degree at McGill University. Think of this course as a "greatest hits" business summaries from my MBA, undergraduate business degree, work experience in consulting, equities, hedge funds, venture capital and starting my own companies.
I have minimized "boring theoretical concepts" in this course in order to keep it as close to reality as possible. The concepts of this course have been taught by me in many classes at several universities, where the student feedback has been universally and incredibly positive (please see my LinkedIn profile for student reviews / feedback on my teaching style/effectiveness - thank you).
---------------------------------------------------------------------
Customer Testimonials:
"I just wanted to shoot you a quick message letting you know I'm really enjoying your online MBA course. I really like that it's geared towards practitioners rather than just theory. I also wanted to sincerely thank you because your course was the difference in me getting funding this past week." -Chris Backofen, CEO of CastCloud
"Engaging Course! Comprehensive presentation of key concepts that are well explained in a practical & relevant manner while delivered in easily digestible chunks." - Michael Jordan
"I've been in business over 20 years and this course is an excellent refresher to remind you of things you may already know and things you may have forgotten along the way." - Laura Caraccioli
"Very clearly structured, presented and spoken. Covers the foundations of entrepreneurship, business and investing." - Jeffrey Koury
"I have just finished this course, and I highly recommend it. I would say that the introduction video gives a good indication of what to expect. You will not be disappointed!" - Ronald Deerenberg
"Great Induction, I Wish University were this exciting, that would definitely make me consider taking on the dept the education comes with." - Christian Baffour-Akoto
"I completed my MBA in 2011 and this was a great refresher. I also got some wonderful takeaways from this course on how to follow my passion and love what I do. Would definitely recommend this lecture to others." Ali Ashraf
"Best course ever. I highly recommend this course" - Aminata Bah
"Brilliant course. Have learned so much and looking forward to implementing what i've learned into future endeavours" - Ben Judh
"This is definitely the best course I have attended in my entire life. It is jam-packed with facts, real life truths about the Financial Sector, its inner workings and a hands-on approach. Professor Haroun's approach of doing away with the theoretical jargon and instead providing a rich-in-practical-content makes this course an absolute MUST for students, young and matured executives, business owners of small or large companies to attend. Professor Haroun is an excellent speaker, an invigorating lecturer of whose passion is fervently contagious. As a business owner of 25 years, I wish I had come across Professor Haroun's knowledge and inspiring attitude many years ago. The course material is comprehensive, easy to understand and Professor Haroun's sense of humor and his inclusion of applicable videoclips in his downloadable course material adds spice to the whole experience. I am forever grateful at stumbling across his course online! Its been a life-changing experience." -Antionette Cronje
----------------------------------------------------------------------------
Students of this course will enjoy learning everything they need to know about business….from starting a company to taking it public while learning the most important topics taught at the top MBA schools in the world. Take your career to the next level!
What are the requirements?
Nothing except a positive attitude! : )
What am I going to get from this course?
Over 64 lectures and 8 hours of content!
Superb reviews!
Take your career to the next level!
Launch a company from scratch.
Get any job the easy way.
Get many customers by using the best networking tool!
Raise a lot of money quickly.
Create financial models from scratch (the Professor makes it so easy to understand).
Analyze company financials with ease!
Understand how investment banking firms work and what they can do to help your business.
Understand how management consulting firms work and when you need to hire them.
Understand how macro economics and micro economics works.
Understand what is venture capital and how to partner with the top venture capital firms to take your company to the next level.
Present to investors and customers like a boss : )
Communicate the right way in business so that you don't waste time.
Change careers easily.
Network and get a meeting with anyone (ideal tips on how to get a job or how to reinvent yourself or how to find customers).
Analyze entire markets and companies from a qualitative and quantitative perspective.
Understand how taxes work (don't worry this section is not boring)!
Protect your family and assets in case your business gets sued.
Understand what business career makes most sense for you!
Restructure your company and the benefits of declaring bankruptcy protection if needed.
Partner with equity and debt providers.
Value companies the easy way.
Set up the correct and most beneficial legal entity for your company.
Identify what makes an entrepreneur extremely successful.
Set unbelievable goals for yourself (there are no limits to what you can achieve....)!
After this course you will have the tools / skills needed to launch a company, grow it and then take it public!
What is the target audience?
Anyone interested in learning about business (only practical concepts that you can use and no boring theory + we won't cover business topics that are common sense).
Your Instructor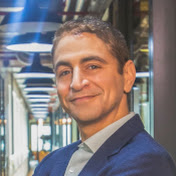 Chris has sold more than 1,000,000 of his online business & self improvement courses in 12 languages in 210 countries and his courses have been profiled in Business Insider, NBC, Inc, Forbes, CNN, Entrepreneur & on other business news websites. Chris is the author of the #1 best selling online business course called "An Entire MBA in 1 Course" & many other business and personal development courses.

He's the author of the book "101 Crucial Lessons They Don't Teach You in Business School," which Business Insider wrote is "the most popular book of 2016." Forbes called this book "1 of 6 books that all entrepreneurs must read right now."

Chris is the founder & CEO of Haroun Education Ventures, an award winning business school professor, MBA graduate from Columbia University & former Goldman Sachs employee. He has raised/managed over $1bn in his career.

He also has work experience at hedge fund giant Citadel, consulting firm Accenture & several firms that he has started, including an investment firm that had a venture capital investment in Facebook several years before the Facebook IPO.

He is a frequent guest lecturer at several Bay Area MBA schools including Berkeley & Stanford. He also has an undergraduate degree with a major in Management Information Systems & International Business from McGill University where he is a McGill University Dobson Fellow (awarded for his work mentoring students with start up business models).

He has founded several companies & serves on the boards of several Bay Area companies & charities, including LEMOfoundation.org & Providing Opportunities for Women. He lives in Hillsborough, California.

According to Business Insider "Haroun is one of the highest rated professors, so you can expect to be in good hands through the course of your education."

He is passionate about education as he believes that all problems can be solved via education.
Course Curriculum
Course Overview / Promo Video
Available in days
days after you enroll
Introduction & Class #1: Launching a New Company (Course learning outcomes + qualities of top entrepreneurs, how to analyze trends + size market opportunities for start-up ideas, firm formation legal structures & intellectual property protection.).
Available in days
days after you enroll
Class #2: Business Presentations: Use These Tips & Watch Your Sales Take-off! (Kick ass presentation strategies to help you raise money and present like a pro).
Available in days
days after you enroll
Frequently Asked Questions
When does the course start and finish?
The course starts now and never ends! It is a completely self-paced online course - you decide when you start and when you finish.
How long do I have access to the course?
How does lifetime access sound? After enrolling, you have unlimited access to this course for as long as you like - across any and all devices you own.
What if I am unhappy with the course?
We would never want you to be unhappy! If you are unsatisfied with your purchase, contact us in the first 30 days and we will give you a full refund.